a little bit about ...our Units
"Makris Yialos" Apartments is a complex divided into various types of units, all equipped according to the current standards. The units' size range from  30m²  to 40m² apprx. 

Each unit is beautifully & modernly designed and the simplicity of the décor enhances the light summery mood & vibes  that dominate in this Kefalonian resort, while, at the same time create an absolute homey feeling.
Basic Info
Size: 30 m² apprx
Bed type: 1x double bed
Private bathroom: shower cubicle
Verandah
Floor: Ground
A/C  [ individually controlled ]
Non-smoking unit
Kitchenette
2-plate hob
Kettle
Toaster
Mini-fridge
Kitchenware/Utensils
Furniture [wardrope, table etc]
Wi-Fi
Flat-screen TV
Safe box
Hairdryer - available upon request from the reception
Telephone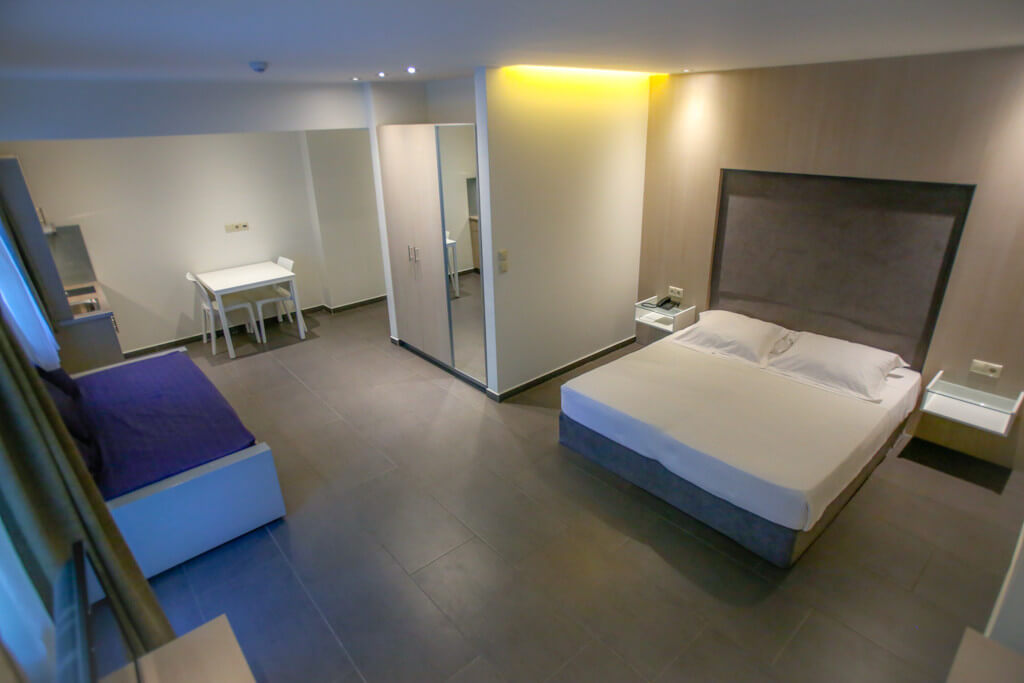 Basic Info
Size: 40 m² apprx
Bed type: 1x double bed or 2x twins + 1x trundle bed
Private bathroom: shower cubicle
Verandah
Floor: Ground
A/C  [ individually controlled ]
Non-smoking unit
Kitchenette
2-plate hob
Kettle
Toaster
Mini-fridge
Kitchenware /Utensils
Furniture [wardrope, table etc]
Wi-Fi
Flat-screen TV
Safe box
Hairdryer - available upon request from the reception
Telephone
Basic Info
Size: 38 - 40 m² apprx
Bed type: 1x double bed or 2x twins + 1x trundle bed
Private bathroom: shower cubicle
Balcony or Verandah
Floor: Ground or 1st
A/C  [ individually controlled ]
Non-smoking unit
Kitchenette
2-plate hob
Kettle
Toaster
Mini-fridge
Kitchenware /Utensils
Furniture [wardrope, table etc]
Wi-Fi
Flat-screen TV
Safe box
Hairdryer - available upon request from the reception
Telephone
Basic Info
Size: 40 m² apprx
Bed/s: 3x twins + 1x sofa bed
2x Private bathrooms *
Verandah
Floor: Ground
A/C  [ individually controlled ]
Non-smoking unit
Kitchenette
2-plate hob
Kettle
Toaster
Mini-fridge
Kitchenware/Utensils
Furniture [wardrope, table etc]
Wi-Fi
Flat-screen TV
Safe box
Hairdryer - available upon request from the reception
Telephone
Basic Info
Size: 25 m² apprx
Bed type: 1x double bed
Ensuite private bathroom: shower cubicle
Veranda with direct pool view/access
Set of sun lougers & umbrella
Floor: Ground
A/C  [ individually controlled ]
Non-smoking studio
Kitchenette setting
Single-plate induction hob
Mini Fridge
Kitchenware/ Utensils
Electric kettle
Toaster
Furniture [Sofa, chairs, table etc]
Wi-Fi
Flat-screen smart TV
Safe box
Hairdryer - available upon request from the reception
Telephone
Basic Info
Size: 60 m² apprx
Bed type: 1x double bed + 1x sofa bed
Ensuite private bathroom: shower cubicle
Balcony
Floor: 2nd
A/C  [ individually controlled ]
Non-smoking suite
Kitchen
Full stove
Dishwasher
Fridge
Wine Conservator
Coffe maker
Microwave
Kitchenware
Furniture [wardrope, table etc]
Wi-Fi
Flat-screen smart TVs
Safe box
Hairdryer - available upon request from the reception
Telephone